(WIP)
Hello, 
When I released Clinic Deluxe Edition in 2019, I never thought, or WE never thought, that a giant pandemic would hit the planet.

And I am now feeling strange about having my game on the table, all around the world, with gamers thematically trying to fight against different diseases based on abstract colors of white, yellow, orange and red. I feel as if I should do more, but what can I do to help the world's medical staff who are suffering in this war against a virus of which we know very little...

That's why I have designed a new cooperative variant called - COVID-19 Pandemic- in order to help the world in finding a vaccine in a near future. 
The more we will be, the sooner we will find a vaccine for Covid-19: For example, the rules will be in 7 languages!

Thank you for your support

Alban Viard
Deutsche Version
Hallo,
als Autor des Spiels "Die Klinik" konnte ich mich in der jetzigen Situation nicht einfach zurücklehnen und nichts tun. Ich beschloss, eine kleine kooperative Variante für das Spiel zu entwickeln.
Es wird eine kleine Erweiterung mit neuem Spielmaterial sein. 
Sämtliche Erlöse aus diesem Projekt stelle ich der Wissenschaft in Europa und den USA zur Verfügung.

Ich habe bereits mit allen Übersetzern des Grundspiels Kontakt aufgenommen. Ich hoffe daher, dass ich die Erweiterung auf deutsch, französisch, englisch, spanisch, italienisch, koreanisch und chinesisch anbieten kann.
Ich habe auch schon beim Hersteller des Grundspiels angefragt, ob sie uns helfen können.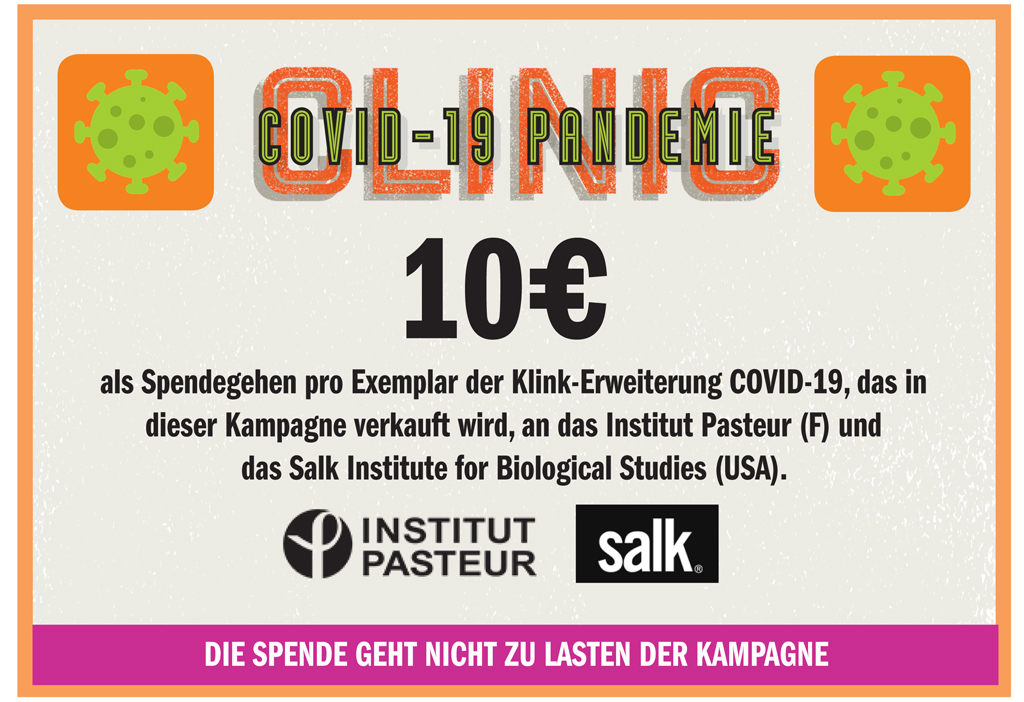 Für die Entwicklung habe ich Ian O'Toole, Todd Sanders und andere bekannte Brettspieler angesprochen. 
Sobald ich neue Informationen habe, werde ich euch Bescheid geben!
Regeln in 7 Sprachen
Alban
Buenos dias
Cuando lancé Clinic Deluxe Edition en 2019, nunca pensé, o NOSOTROS nunca pensamos, que una pandemia gigante golpearía el planeta.


Y ahora me siento extraño teniendo mi juego sobre la mesa, en todo el mundo, con jugadores que están tratando de combatir diferentes enfermedades sobre la base de colores abstractos de blanco, amarillo, naranja y rojo. Siento que debería estar haciendo más, pero ¿qué puedo hacer para ayudar al personal médico global que está sufriendo en esta guerra contra un virus del cual sabemos muy poco ...
Es por eso que diseñé una nueva variante cooperativa llamada COVID-19 Pandemic para ayudar al mundo a encontrar una vacuna en el futuro cercano.


Cuanto más seamos, antes encontraremos una vacuna para Covid-19: ¡Por ejemplo, las reglas estarán en 7 idiomas!

gracias por su apoyo

Alban Viard
Versione Italiana
Ciao
come autore del gioco da tavolo Clinic nel 2019  (Deluxe Edition) non posso rimanere con le mani in mano e non far nulla per cercare di aiutare le persone.

In questi ultimi giorni ho progettato una variante cooperativa del gioco, il cui 100% dei ricavi andrà in donazione alla ricerca scientifica in Europa e negli Stati Uniti: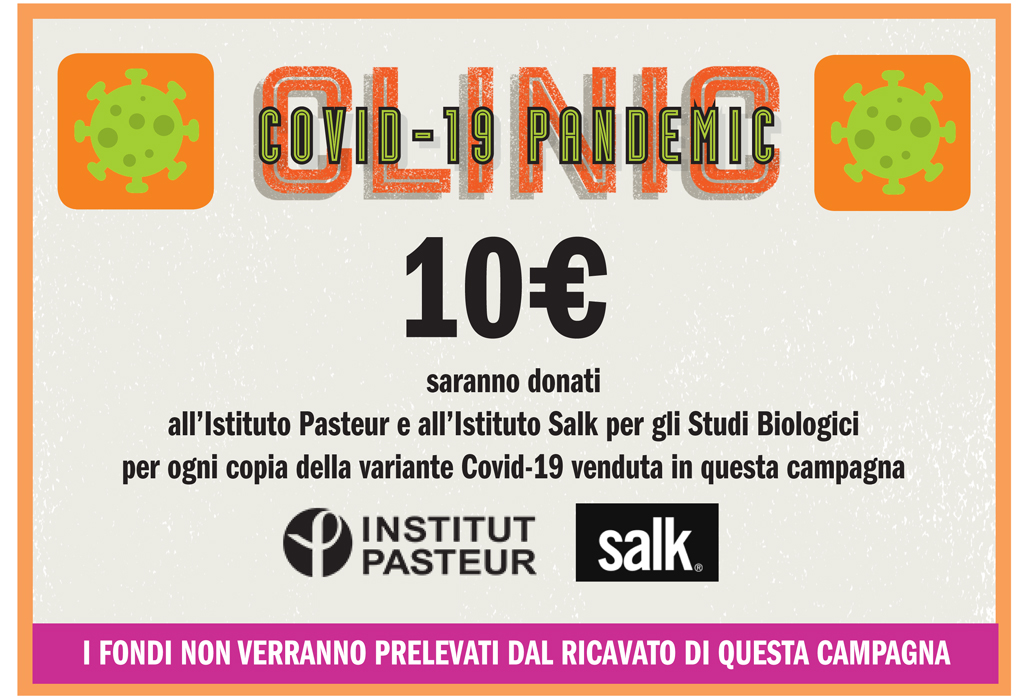 Ho contattato i traduttori del gioco in tedesco, spagnolo, italiano e coreano e sono tutti felici di aiutarmi, così da avere queste nuove regole in molte lingue.
Ho contattato il produttore di Clinic Deluxe Edition nei Paesi Bassi e anche loro sono felici di prestare il loro aiuto.
Ho contattato Ian O'Toole e Todd Sanders (il grafico e l'illustratore del gioco base e dell'espansione) e diverse persone che possono fare promozione per ottenere la quantità maggiore possibile di denaro.
Regole in 7 lingue
Alban